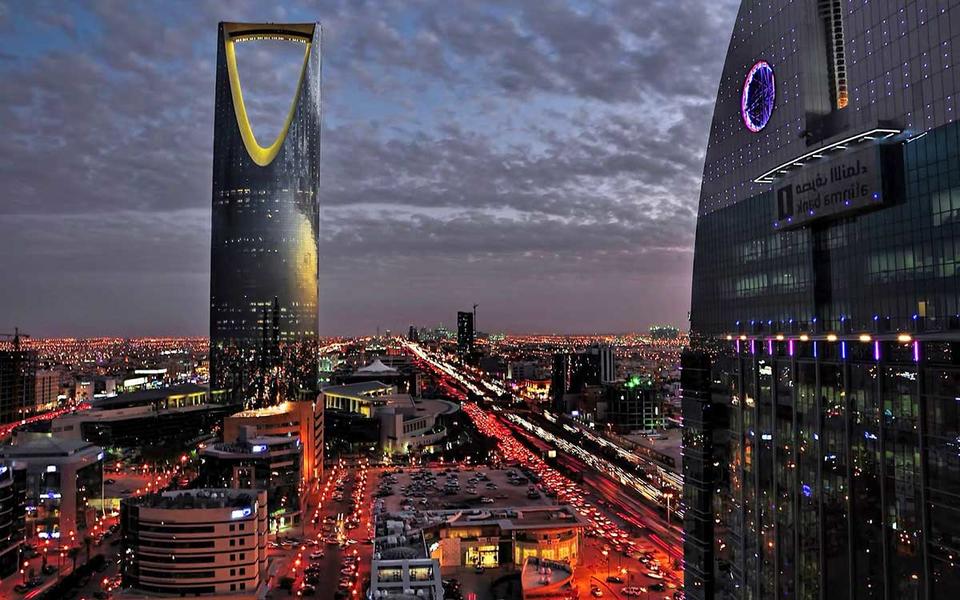 Riyadh, Saudi Arabia's capital and main financial hub, is on a desert plateau in the country's center. Business district landmarks include the 302m-high Kingdom Centre, with a sky bridge connecting 2 towers, and 267m-high Al Faisaliah Centre, with a glass-globe summit. The city's central core and its many souks (marketplaces) attract heavy pedestrian traffic, emphasizing the city's intense feeling of vitality. As residents of a major city in a mainly Muslim (see Islam) country, Riyadh's inhabitants adhere to a number of social norms that include segregation of the sexes and the need to protect the privacy of the family. Recreational activities are often a family affair, and large public gatherings are mainly restricted to male attendants. However, many activity centres allow women and families to attend at special times or in reserved areas.
Riyadh's physical layout is dominated by its street system—a highly defined grid made up of 1.25-mile by 1.25-mile (2-km by 2-km) square blocks—which provides a network across the cityscape. This grid system is navigable, but it is also considered by some to be confining, because of its regimented compartmentalization of the city's communities and neighbourhoods.
The city of Riyadh is located approximately 1,950 feet (600 metres) above sea level in eastern Najd ("Highland")—a region largely dominated by a rocky plateau landscape—in the centre of the Arabian Peninsula. Najd's broad, mountain-studded plateau gives way in the centre and east to a series of escarpments arching from north to south, including Al-Khuff, Jilh Al-ʿIshār, and, the longest and highest of these, the Ṭuwayq Mountains. With a length of some 800 miles (1,300 km), the Ṭuwayq Mountains constitute the backbone of the most densely settled part of Najd, of which Riyadh is a part; the topography of Riyadh itself, however, is relatively flat. Soils in and around the city are made up of an alluvium of gravel, sand, silt, clay deposits, and a limestone subsoil.
Historical Overview
In the historical Deira district, Masmak Fort marks the site of the 1902 raid that gave the Al Sauds control of Riyadh.Life in Riyadh is concentrated around the city's more than 4,000 mosques and its numerous busy shopping centres. Riyadh was selected as the cultural capital of the Arab world in 2000 by UNESCO. The city contains numerous cultural centres. Among them is the King ʿAbd al-ʿAzīz Historical Centre—a collection of restored buildings including a mosque, library, and conference hall. The centre, created on the grounds of the old royal palace compound, was designed to display the history of the kingdom's foundation and development and that of the Arabian Peninsula. A number of other cultural facilities are located in Riyadh, including the National Museum, which houses a variety of cultural works, including documents and antiquities, and the National Library. The city is adorned by a number of squares, markets, and public parks, and restaurants offering Arabic and various international cuisines are abundant.
As the country's capital, Riyadh hosts numerous government ministries and public services headquarters, making the public sector the city's largest employer. The government employs more than one-third of the city's workforce and is the source of approximately half of Riyadh's total production of goods and services. Saudis account for more than nine-tenths of total government employees—a stark contrast to some of the other employment sectors, which are dominated by foreign workers. In the private sector, more than two-fifths of the workforce is employed in services, about one-fourth in construction, more than one-fifth in trade, and about one-tenth in industry.
The modern Kingdom of Saudi Arabia was born and has flourished under the wise and benevolent rule of His Majesty King Abdulaziz Ibn Abdul Rehman Al Saud and his heirs.
Oil discovery operations date back to 1935 when Standard Oil of California (then SOCAL now Chevron) started to drill the Dammam No.1 well. On the 3rd of March 1938 Dammam well No.7 struck oil at a depth of 1441m.
His Majesty King Abdulaziz during his visit to the Eastern Province on the occasion of the loading of the first shipment of crude oil on 1st May 1939 from Ras Tanura.
Tourism in Riyadh
Riyadh is considered the most straight-laced of the Kingdom's big three cities. With most forms of entertainment banned, few sights of interest and a brutal climate, Riyadh is mostly a business destination. Although everyone adheres to the dress code thawb for men and abaya for women, you might come across many Saudis in Westerized clothing. English is spoken by most Saudis (most in Riyadh speak it well) as well as most foreigners.