Pre-Conference Workshops, Wednesday 26 February
We welcome you to register for one of the Pre-Conference workshops that will be organised within various locations in Jeddah on Wednesday 26 February.
Kindly note that:
to attend a workshop, registration for this workshop is mandatory (except for workshop 5)
most workshops have limited availability
registrations will be accepted on a First come First serve-basis.
entrance to the workshop room is only granted after full payment of your balance due.
Programs + Registration
Registration for a workshop is only possible if you have succesfully registered and paid for the whole 32nd SUA Annual Meeting.
To register for the workshops, please follow this procedure:
Step 1: please transfer the amount concerned to the bank account of the SUA:
Saudi Urological Association
Samba: 4701729426
IBAN: 8540000000004701729426
Step 2: after successful completion of the transfer, please send an e-mail including your name, mobile phone number and your registration number of the meeting to the e-mail addresses indicated per workshop below and attach a copy of the bank transfer to this e-mail.
Workshop 1: Endourology - King Fahad General Hospital
Registration fee for this workshop: 500 SAR

To:
This email address is being protected from spambots. You need JavaScript enabled to view it.


CC:

This email address is being protected from spambots. You need JavaScript enabled to view it.



The program of the workshop is as following: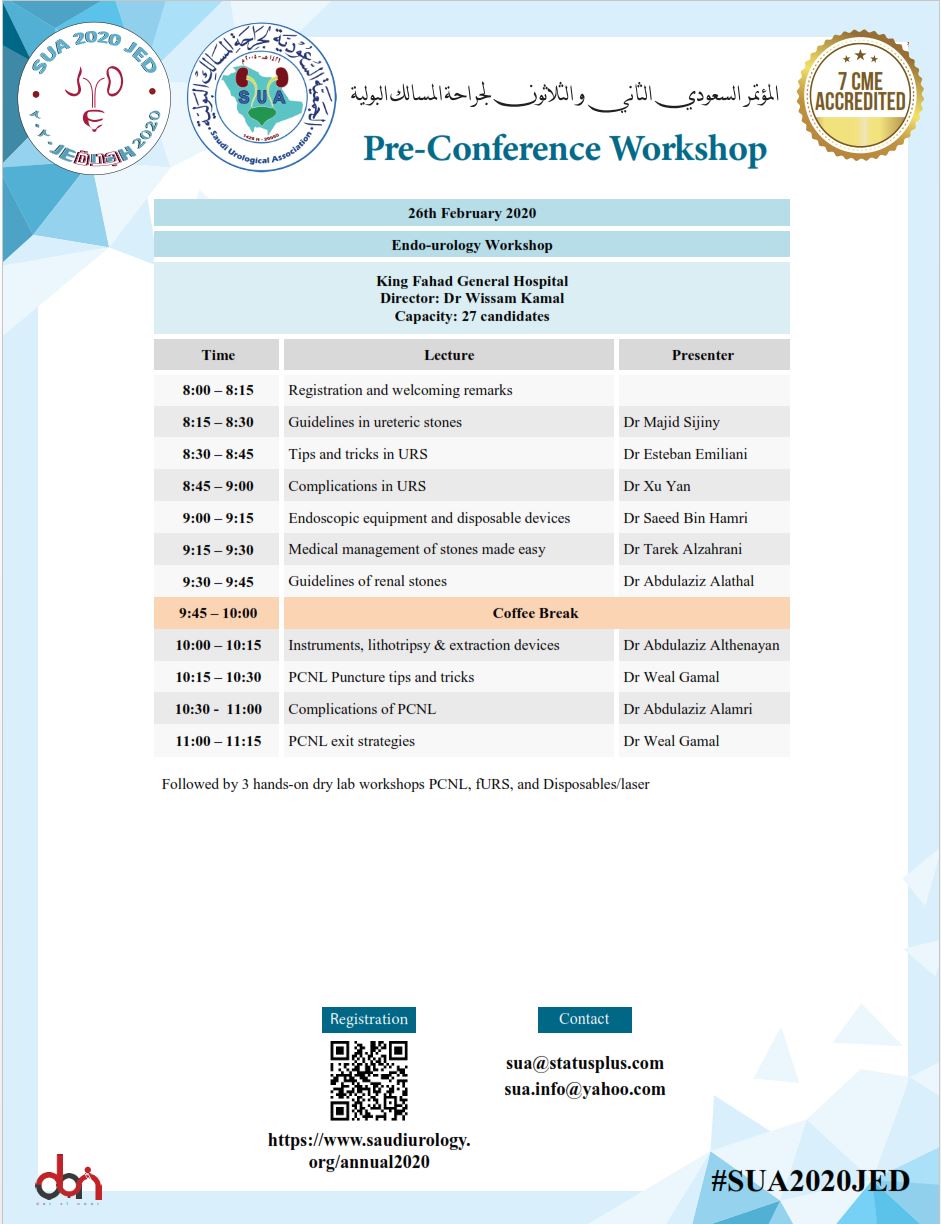 Workshop 2: Andrology - King Abdullah Medical City (Makkah)
Workshop 3: Urinary Diversion - King Abdullah Medical City (Makkah)
Workshop 4: Pediatric Urology Microsurgical Workshop - King Abdulaziz University Hospital (Research Center)
Workshop 5: Robotics Symposium - Hilton Hotel (Madinah Room)
Workshop 6: Voiding Dysfunction Group - Hilton Hotel (Madinah Room)
Workshop 7: Prostatic Cancer Masterclass - King Abdullah Medical City (National Guard)
Workshop 8: Laparoscopy - King Abdulaziz University Hospital (Research Center)
Workshop 9: Post Conference Research Symposium (Saturday 29 Feb.)